It is only fun to eat chili pickle in the summer days. The sour and tarted flavor in it is also beneficial for the ulcer due to heat in the mouth. It also changes the taste of the mouth, it is also beneficial for health. Green chilli is beneficial for health and it also benefits from experimenting with ethics. By eating the pickle of pepper, the taste of food increases as well, along with it also cures digestive power. But meditate should never be consumed more chillies. Use only to change the taste of your mouth, it may be harmful in excess quantity. Let us know how we can make a delicious pickle of chilli at home.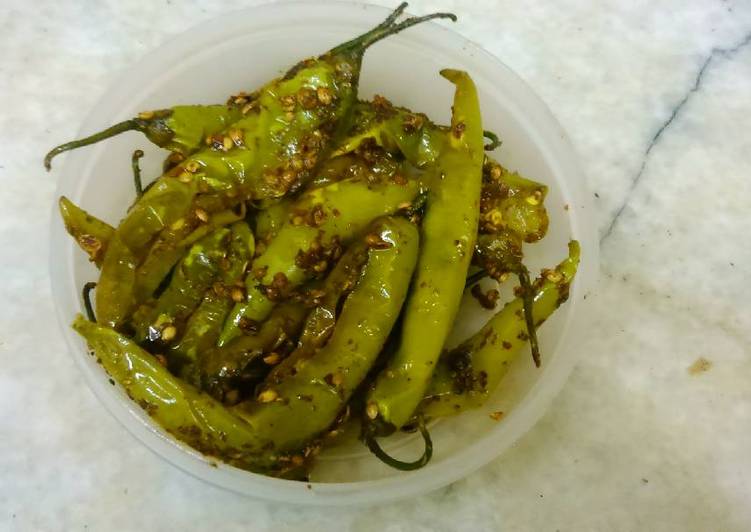 To make pickle of pepper, we need chopped green chillies or you can cut it finely. Turmeric, salt flavor and lemon
To make the pickle of chilli, we will first remove her stalk from the chili and will cut it in its desired shape. Now we will wash it well so that it will get more sharpness. Now, we will take it in a vessel and squeeze lemon juice in it. Now let us leave it like this for 5 minutes so that the juice of lemon and enters inside it and gives good taste. Now in this we will mix salt turmeric and cumin powder and mix it well. When it mixes well then we will squeeze four to five big lemons in it and keep it filled in airtight containers. You can also add mustard oil in it. In 4 to 5 days it will completely melt and it will be worth your food.
You can eat it with rice, roti with which you want to eat, it is very good in taste, because it is also tarted in taste, and also curd.
Make such delicious spicy pickle at home
Reviewed by
Praveen Rai
on
May 31, 2019
Rating: